For those who don't know, I'm getting married! Ahhh! I've been engaged for a year and we have set our date and booked the venue. The 17th of April 2014. Far too long away. I'm going to write little updates on our progress, and although its still a year and a half to go, yesterday - I got my wedding dress!
Now you may think - 'Oh that's far too early!' or 'What if you see something else and then you don't like your wedding dress anymore?' but there is a long story behind this dress! I must have already tried on 40-50 dresses, and found a few that were lovely. However I'd seen this dress in a few wedding magazines and I thought "Wow! That dress is so amazing!!" Problem was, it was so difficult to come by! For one, there's only 3 stockists in the entirity of Scotland, and the two closest to me didn't stock the dress. So, yesterday, off I went to Edinburgh to the only shop I could find that stocked it.
Luckily, when I got there, they also stocked the other dress I really liked. I got to try that on first (I will insert a picture of it down there somewhere) and then I got to try on my dress. I was right all along, it was love at first sight. Although many dresses had looked amazing, this one garnered gasps from my mum and two of my bridesmaids - and it felt perfect! I felt like that if you had to make a dress that was my personality, this would be it. I couldn't be happier with it! The only problem with getting it so far in advance is that I have to wait ages to wear it!
So, along side my wee story I thought I'd in a little bit about wedding dresses to suit your shape! I've learned a lot about this over the past few months of wedding dress hunting and thought I'd share some wisdom for those who are planning a wedding or if you just want to look at pretty dresses!
Hourglass Shape
The name is pretty self explanatory. If your shoulders and hips are in proportion, with your waist being smaller, then you are an hourglass shape! The is the 'ideal' shape for many women. If you are this shape, you can wear many different shapes of wedding dress. (infact most!) I've added some ideas in. (The dress on the top was my 'other' dress!)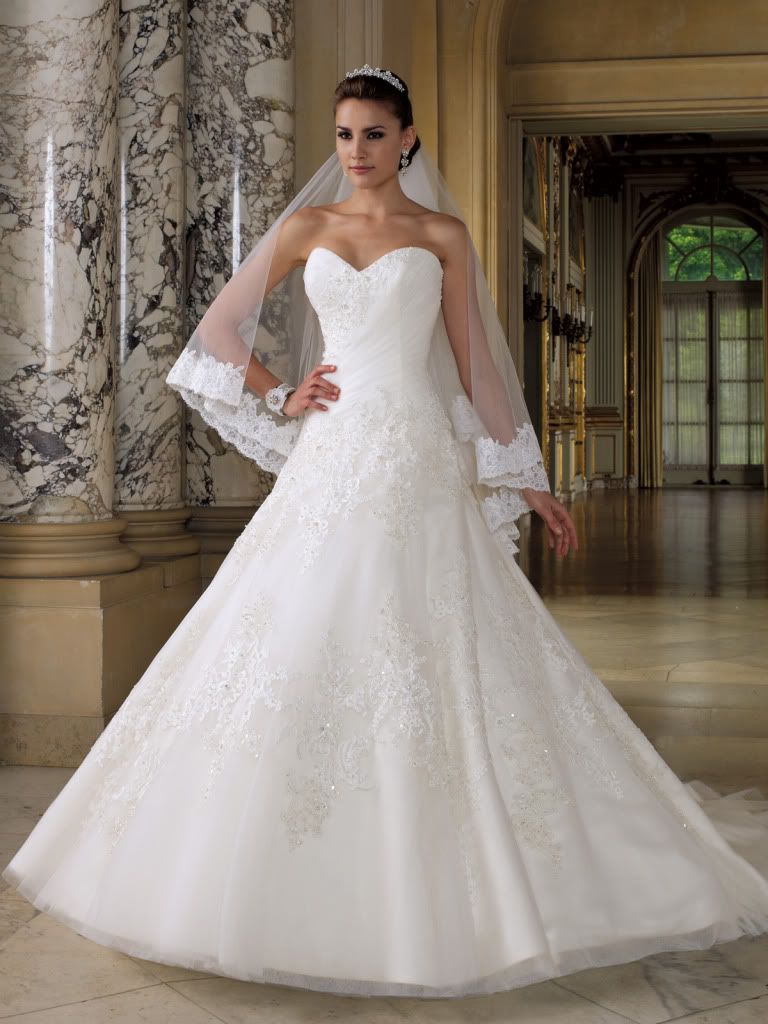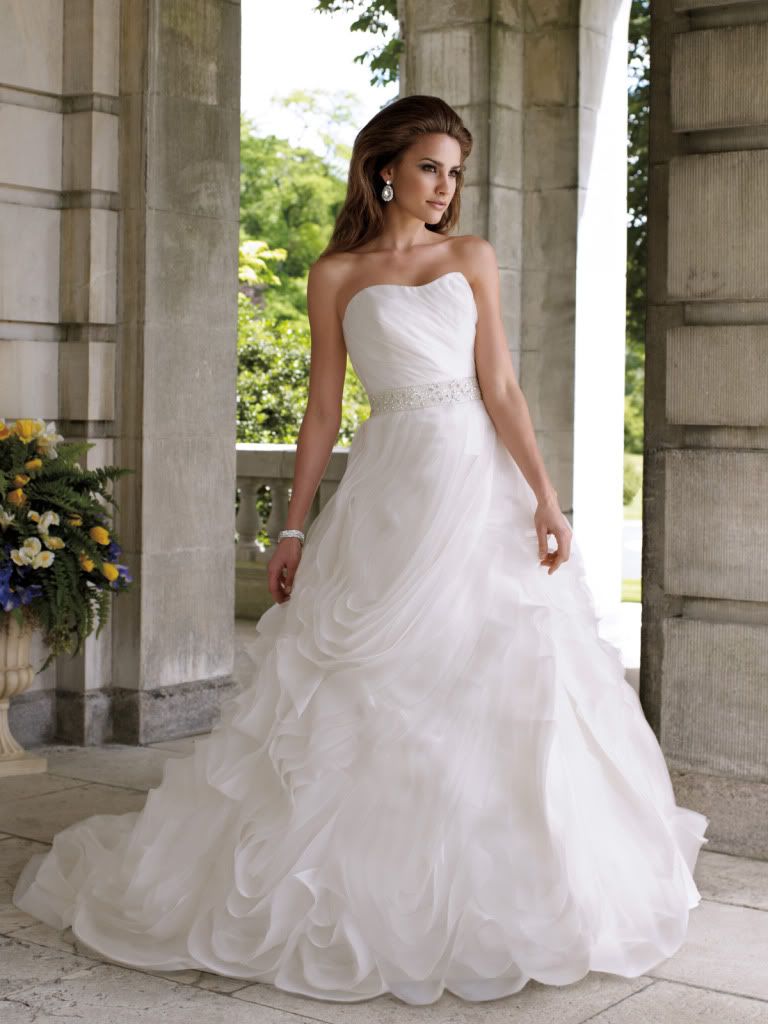 (image credit -
dresses are both David Tutera for Mon Cheri
)
Pear Shape
Pear shapes have larger hips than shoulders. It is an extremely common shape for women to have! In order to dress this shape, detail work should be on the top of the dress or around the shoulders in order to broaden them, it should come in on an empire line or at the waist and a loose or large skirt can be used to skim over the hips.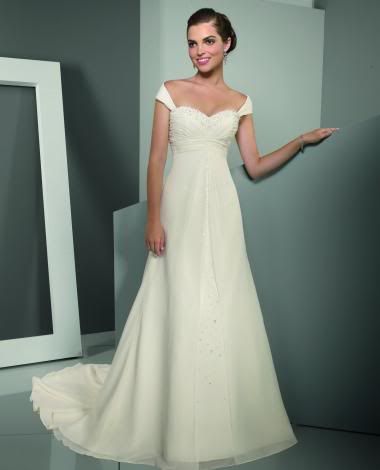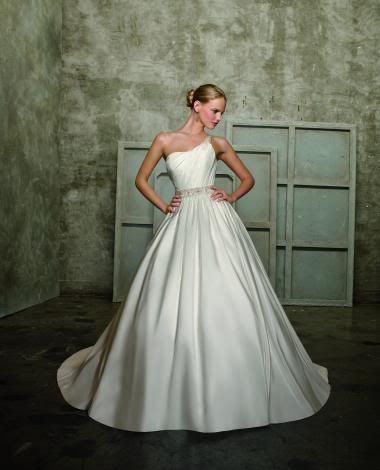 Apple Shape
Apple shapes have big busts, a rounder tummy with slender legs and a slim bum! This can often be one of the most difficult shapes to dress, especially when it's the most important dress ever! In order to make the most of an apple figure, corseted dresses or dresses which have detailing around the waist (either in the way the fabric is draped or a jewelled belt) may be best, it will draw in the waist and give the illusion of an hourglass figure!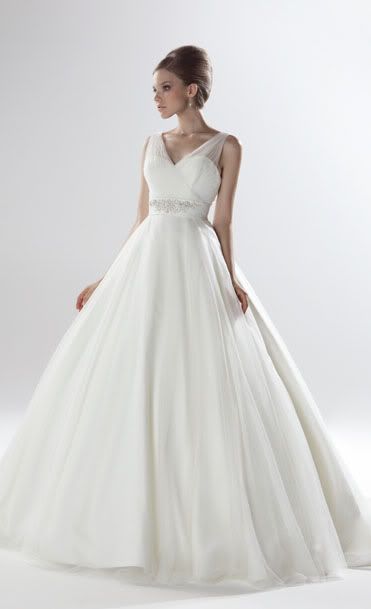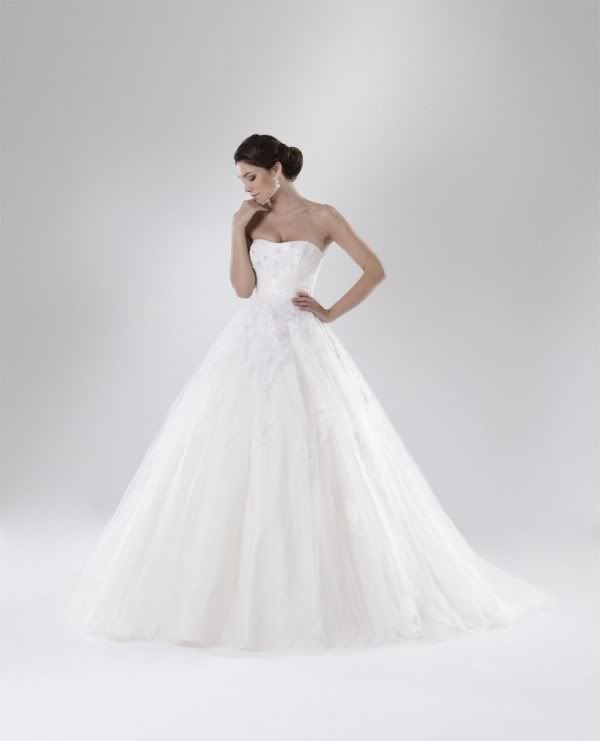 Banana Shape
If you are a banana shape, you are straight up and down, with your shoulders, waist and hips being relatively the same size as each other. This means you can wear those lovely high necked, slender fitting wedding dresses that no one else could pull off! I love the ones shown below, but my body shape would never suit something like it. The best shapes for those 'banana' shaped bodies are slim fitting, with fabric drawing down through the waist. Often fishtail dresses help to create a natural curve to the body, too.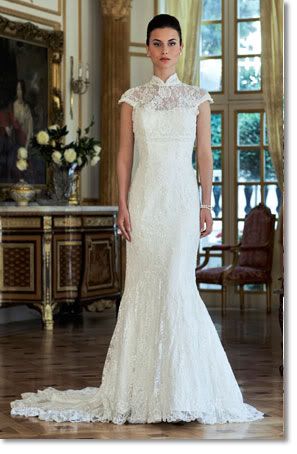 So, that's just a little of what I've learned about bridal dress shopping. I'm in love with my dress, I can't wait to wear it!
xoxo