I love autumn. It's my favourite season alongside winter. I don't know if it's been the horrid weather but I have been waiting for it more eagerly than normal this year! Here's some of the things I've seen this week that I love, to me it feels very autumnal.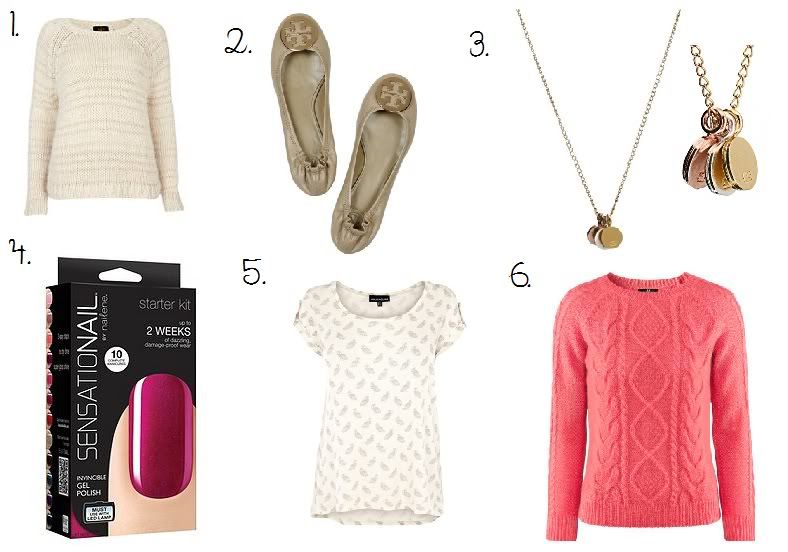 I love wearing jumpers, probably a bit too much. I especially like loose knits in neutral colours which makes this little number just right. I think it would look amazing with skinny jeans and flats! Maybe like these Tory Burch flats which I've been lusting after for ages, I think these ones are perfect. (but so expensive!) I love dainty little necklaces and this Dogeared one is so cute, I love how it combines silver, gold and rose gold and has the theme of '3 wishes' which is adorable. All of their jewellery is so lovely.
Being a nail tech, I'd love to try this 'high street' version of a gel polish. It comes with one gel colour, base and top coat and cleanser as well as a mini UV lamp, which I think is great for the price if the product is of high quality! If you have tried this product, let me know what you think!
This owl tee is so cute. I love laid back but classic style and I think a well cut t-shirt makes such a difference! I find warehouse basic and printed tees are just the ticket. Finally, a cable knit jumper. Again a perfect transition piece for autumn/winter and I love this colour, plus for £12.99 you can't really go wrong!
Bring on autumn I say!
What's on your 'lust list'?
xoxo